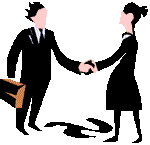 About Us
We are an Information Technology Company dedicated to helping the medium to small business owners in Adelaide, with all their Information Technology needs.
VMP Developments SA. was formed in July 1998, however the business was trading under VMP Developments as a money making concern for 3 years before becoming a Pty Ltd. Company.
We are an Australian Owned and Operated Company managed by the two Directors and founders of the business, Vince and Tracy Pannell.
Our Mission Statement.
To provide a prompt and reliable service to our clients which is both efficient and reasonably priced.

To keep our clients in business is to keep ourselves in business.
We have developed strong Strategic Alliances with the following companies in an effort to better look after our clients.
Trilobytes (Computer services for home & business)
As a team we are able to cover every possible area that business owners may require.

[Introduction] [History] [Services] [Rates]
[Products] [Contacting Us] [Current Clients] [Hosted Sites]
Email: services@vmpdev.com
This page was last updated on Friday, 26 September 2003.